What makes us "essentially different"?
"Essentially different", a slogan that only began to take hold over time. It was only after we had launched our first products on the market that we kept hearing from industrial partners as well as from our customers: "You do everything so differently" and "I have never seen a company that does textiles the way you do it ". It was very flattering in a way, but also a little scary. Are we really that different? And if so, is that a good or a bad thing? Whether that's right or wrong, we realized that we were indeed different from most other brands in the industry - on so many levels.
We started our company with the aim of building something ourselves and helping to change the textile industry. So we were quite happy that people around us began to notice our alternative way of thinking. With the increasing importance and relevance of sustainable and circular fashion, we felt we needed to figure out what exactly we did or didn't do that could make us stand out from others. After all, for a company as small and new as we are, it's a pretty daring statement. So we thought we'd give a little glimpse into how we see our approach ourselves and how this opens up a whole new niche for us in the fashion industry:
The start
It all started when we, Dario and Dario, the founders of Muntagnard, wanted to break new ground. Four years ago we came to the realization that we would never find our passion in overly structured, conventional professions. Ever since we quit our jobs in business consultig, we've been looking for an adventure. We wanted to start our own company and pursue our entrepreneurial ambitions. We have always been enthusiastic about thinking outside the box and breaking out of our comfort zone. Even if we didn't have a clear idea of what would become of it, we got down to work. We knew our focus had to be on creating an innovative company. A company that shows that sustainability and business success do not have to contradict each other. But we never would have thought that we, two former consultants, would one day work with textiles ...
The philosophy in the team
We see a central aspect in the way in which we in our team approach the daily tasks and challenges. We quickly felt drawn to the textile industry. Not only because it is an exciting and constantly changing sector, but also because it is a highly problematic one. Determined to question the status quo of the industry, we set ourselves the goal of rethinking materials, their sources, their ecological and social impacts and their functionalities. This is how our brand was born. A brand that wants to make sustainability worth striving for and that feels responsible for transparency towards the customer. A brand that wants to drive sustainable innovations in order to create a new status quo for the economy.
At Muntagnard, we are always passionate and go the extra mile. We do not believe that it is enough if only some of our products meet our high and ambitious standards. That is why we are developing a whole range of products that fully correspond to our understanding of the circular economy. This ambition to improve products down to the smallest detail and to rethink them is what drives us. Our processes should be clean, fair, traceable and understandable and we want to find and implement new solutions.
Sustainability as a starting point rather than a goal
In order to pursue our ambition, we knew that we had to work with companies that think outside the box and are ready to break new ground. Our partners are pioneers in the textile industry and have their own unique way of combining innovation and sustainability. They are scattered all over Europe in countries like Portugal, Italy, Greece, Austria and Switzerland. They all help to ensure that processes run more smoothly and that our products are of high-quality and innovative.
We entered the textile industry because we are convinced that we can offer our customers added value. The people who confidently go their own way in life. You want to wear responsible and sustainable clothing, but you are not prepared to sacrifice comfort, quality and style.
In summary, we believe that in today's world it doesn't hurt to be different. Different from the standard, different from the status quo and the way it's always been done.
We are here to break new ground, try out alternative solutions, drive sustainable innovations and, most importantly, make sustainability worthwhile
. We rethink, we question, we care and we never stop developing. And that's what, in our opinion, sets us apart from a sea of brands in the textile industry.
Sustainability is not a goal for us, but the lever for innovation and continuous development and improvement.
Additional Information:
about us
Our approach
Circular economy in textiles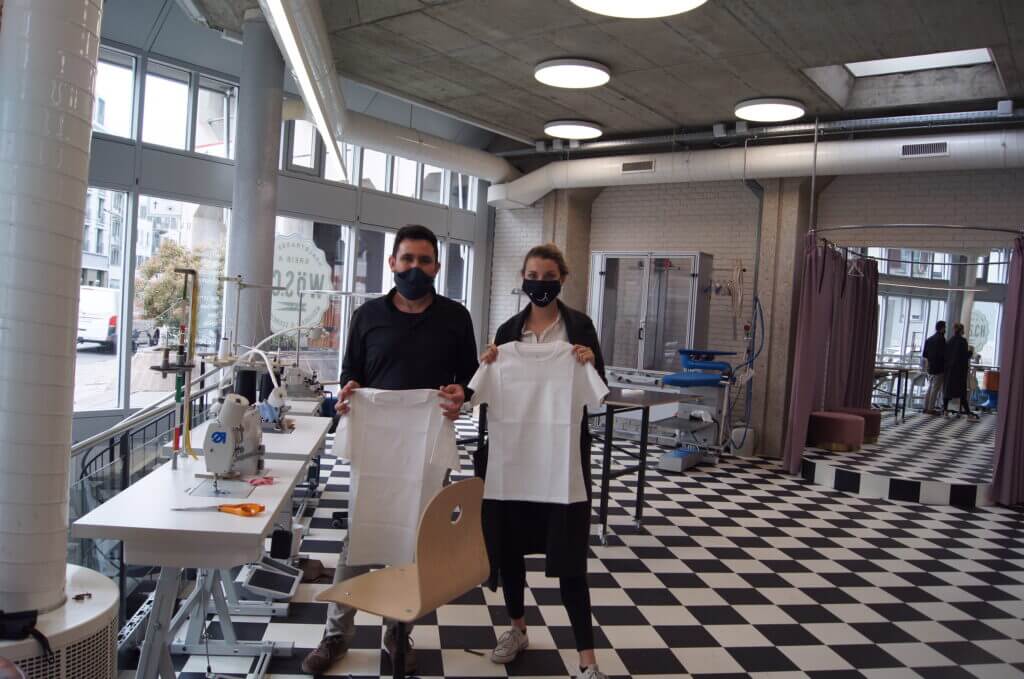 Nachhaltigkeit
Muntagnard managed to repair and save 400 T-shirts locally. With this repair, 3810 km of transport and 1.5 tons of CO2 were saved. It all started with a joint after-work beer It was an u...
Read more