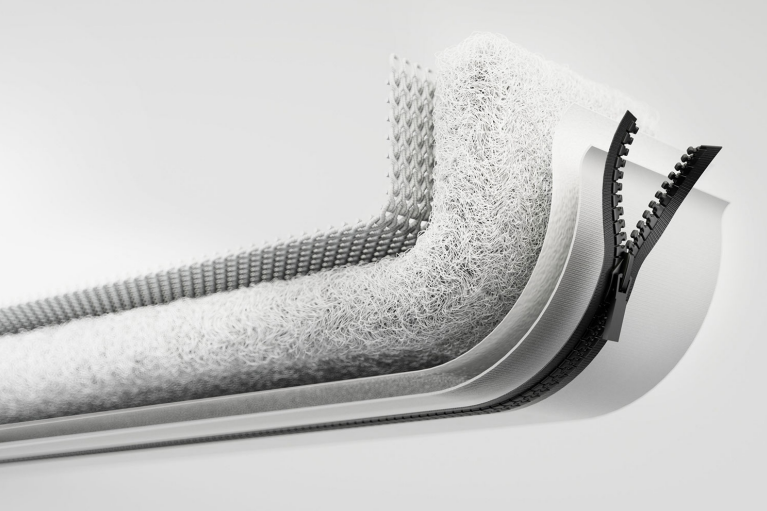 What does MIUtec stand for?
With MIUtec we have developed an award-winning, sustainable product innovation in the field of sportswear. This product line has been a focus especially since winning the ISPO award for the MIUtec Iso Jacket. But what does that mean exactly and why did we develop this line?
How did MIUtec come about and why did we develop a sports line?
Ever since we were founded, it has been clear to us that we would also like to develop "sustainably responsible" solutions that are suitable for sporting activities. But what is "sustainable-responsible" - and what functionality must be fulfilled in sportswear?
Of course, it is obvious that fibers of regenerative origin (i.e. cotton, linen/hemp, but also wood-based fibers) would be desirable from a sustainability point of view instead of using oil-based, synthetic fibers.
From our experiences in floorball, hockey, football, skiing, snowboarding or cross-country skiing, it was clear to us from the beginning that cotton is not very suitable. This material has good values ​​with less odor development. However, cotton fibers literally absorb sweat, leading to the familiar heavy, wet sticking to the body uncomfortable and hampering performance.
The normally used synthetic fiber polyester was ubiquitous in sports jerseys. Appreciated for the transport of moisture to the outside and a drier, lighter wearing comfort during intensive sports - rather less liked due to the intensive odor development, even after repeated washing (so-called "permastink").
From a sustainability point of view, standard synthetic fibers are also problematic because of the many chemicals needed for its creation: from the raw material oil through production processes to dyeing and finishing. The advantage of the longevity of synthetic fibers is actually positive: nothing is more sustainable than using a product for as long and as often as possible. Unfortunately, these products are being replaced too quickly, with a large proportion still ending up in nature too often. There, this longevity becomes a disadvantage: plastic parts do not decompose for decades and thus contribute to increased toxicity in the environment.
What would the ideal solution for sportswear look like?
So an ideal solution for us would be a raw material of regenerative origin that is treated with chemicals that are as "clean" as possible, resulting in a durable, high-quality material. This material can be used for fabrics, sewing threads, zippers, labels and more to make monofiber products.
1. Regenerative origin

2. "Clean" production processes

3. Versatile

4. Robust material

5. Comfortable to wear

6. Recyclability

7. Biocompatible accelerated degradation
It is robust so that it can be used and worn for as long as possible, with a comfortable fit and a material that does not smell quickly. If the product has reached the end of its useful life, it should be able to be recycled without any major loss of quality. If, contrary to expectations, it ends up in nature, the material should be biocompatible, i.e. non-toxic in water and biogas, within a short period of time.
The lengthy search for the optimal solution
Classic synthetic fibers such as polyester, polyamide and elastane were never an option for us. The raw material oil is neither of regenerative origin, nor are they biodegradable, often even toxic. Microplastics in particular are an ever-growing problem.
Accordingly, we first looked at the bio-based PLA (polylactic acid). This is mostly made from cornstarch. It is also biodegradable (always under certain conditions). However, the touch didn't convince us - so far with no fabrics. In addition, we have not yet found any trims (sewing thread, labels) to create monofiber products from them.
We find bio-based polyamide very interesting. It is mostly produced from castor beans or castor oil. However, this is not biodegradable. The same applies to recycled polyamide from fishing nets and the like, which can then be mixed with new polyamide and recycled to be reused.
Everyone is talking about recycled PET as "the sustainable fibre". However, we feel that this is counterproductive to the circular economy. There is already a lack of raw material for PET bottles. It makes no sense to take these out of a functioning PET bottle cycle so that more new PET bottles can be produced again. There are also numerous other problems such as deterioration of the fibers, increased microplastic pollution, to take just two. Definitely not a sustainable solution.
Of course, we also analyzed the wood-based LEGNA fibers. It basically fulfills all of the above points, with the exception of numbers 4 and 5. LEGNA is so comfortable to wear in everyday life with all the other advantages: the fiber is too delicate when it gets wet from sweat. We tested the product in yoga with numerous customers: It works excellently. During a 10-hour hike, however, it falls through: due to the moisture combined with the friction of the backpack, it starts to pills too quickly - it's not robust enough. Accordingly, we are happy to recommend LEGNA for light sporting activities without friction - but not for endurance and intensive sports in connection with friction.
Hence, it became clear to us that the solution for the moment must lie in robust synthetic fibers. However, these must be biodegradable so that they do not remain in nature forever if the worst comes to the worst, and they must be recyclable without major losses in quality so that they can be reused as many times as possible.
The birth of MIUtec
So far, the synthetic fiber has had an insurmountable disadvantage: it can hardly be recycled and if it ends up in nature, it sticks there as non-degradable plastic. This needs to change!
Sustainable functional clothing? Is it possible?

We say yes!
We rely on an innovative technology in the formulation of a new type of polyamide that is not only fully recyclable but, according to standardized tests, can also biodegrade more quickly. And we don't stop with the fabric: The zips, labels and sewing thread are also made from one and the same material - in the spirit of the circular economy.
For additional comfort and mobility, an innovative elastane fiber is used, which can also be decomposed non-toxically (C2C Certified Material Health Certificate™ Gold).
Before our MIUtec products end up in the environment, however, they should ideally be reused and recycled countless times in order to give the materials used as long a life as possible. MIUtec stands for this approach: Material Infinite Use Technology.
What is special about a product based on the MIUtec approach?
The MIUtec C-Shirt (Circular T-Shirt), for example, consists of only one material that is not only completely recyclable, but also biodegradable more quickly. The unique composition of these fibers allows bacteria to "digest" the polymers. This accelerates the biological degradation process to water and biogas many times over.
Decomposes 10x faster in landfills and 40x faster in the sea than conventional synthetic fibers
While other plastic fibers need 50 to several hundred years, according to a standardized test, the polyamide fibers of MIUtec products can decompose in 3-5 years in anaerobic landfill conditions - i.e. about 10 times faster than conventional synthetic fibers. In marine conditions, it can even degrade 40 times faster! A true improvement on the status quo!

There is no loss of quality compared to conventional synthetic fibers: the products remain just as robust and durable in use.
The innovation of simplicity
The MIUtec C-shirt was developed for the circular economy and is one of the first of its kind in the world. It combines the usual comfort and excellent properties of a sports t-shirt with an innovative functional material. From the fabric to the sewing thread, the MIUtec C-shirt is made of 100% innovative, recyclable and more rapidly biodegradable polyamide. In addition, the Italian-made fabric is refined against odor development and bluesign® approved according to an industry-leading standard. It is manufactured in one of the most renowned production facilities for sportswear in the world north of Porto, Portugal. Made in Europe.
The other MIUtec products correspond to award-winning sustainable innovations, such as the MIUtec Iso Jacket, which has received two awards from ISPO, or the MIUtec Half-Zip Midlayer, which has been nominated for the Ski Magazine Sustainability Award.
So are we at the end of development with no further optimization options?
Where are we going? The further development of MIUtec
Of course not!
All synthetic materials at MIUtec are currently made from crude oil (fossil-based) - like almost all synthetic fibers. Even though a wide variety of developments in the field of bio-based plastics are already available, we currently rate the aspect of recyclability and biodegradability as significantly higher. Bio-based (from renewable raw materials) does not mean biodegradable, especially in the case of synthetic fibers, which means that the increasing problem of microplastic pollution is not addressed. In addition, only a fraction of the synthetic fibers can be recycled anyway. From a functional point of view, plastics have an absolute right to exist, which now needs to be taken to the next level in terms of sustainability.
Some trims, such as labels or elastic loops, are not yet available in the desired biodegradable quality, since cheap standard polyester is still commonplace. However, we need this in order to produce monofiber products that are as easy to recycle as possible. Replacing such materials with our selected raw materials is always associated with much higher costs, longer production times - and usually not even possible. All such products are accordingly a time-consuming new innovation to be developed, which causes many in our development a headache...
In the future, MIUtec should not only be recyclable and biodegradable, but also consist exclusively of renewable raw materials.
In addition, we remain on the ball with regard to innovations in other synthetic fiber technologies that can be degraded and recycled more quickly without sacrificing function, comfort and quality.
So it will be interesting to see what else will come out of the innovation forge of the MIUtec line, because we will never stop developing ourselves and our products. In the future, MIUtec should not only be recyclable and biodegradable, but also be made exclusively from renewable raw materials.

With MIUtec, we are already ringing in a new era for functional clothing and, with award-winning products, we are among the pioneers in the industry. There are (too) many ideas and we - and hopefully you - certainly won't get bored.
What would you wish for? And what hints and inputs did we miss? Feel free to write your answer in the comments – Engraziel!
Monomaterial and circular economy
The mono-material concept is a relevant piece of the puzzle with regard to a sustainable circular economy. The mono-material concept refers to products that consist of a single material, as opposed...
Read more