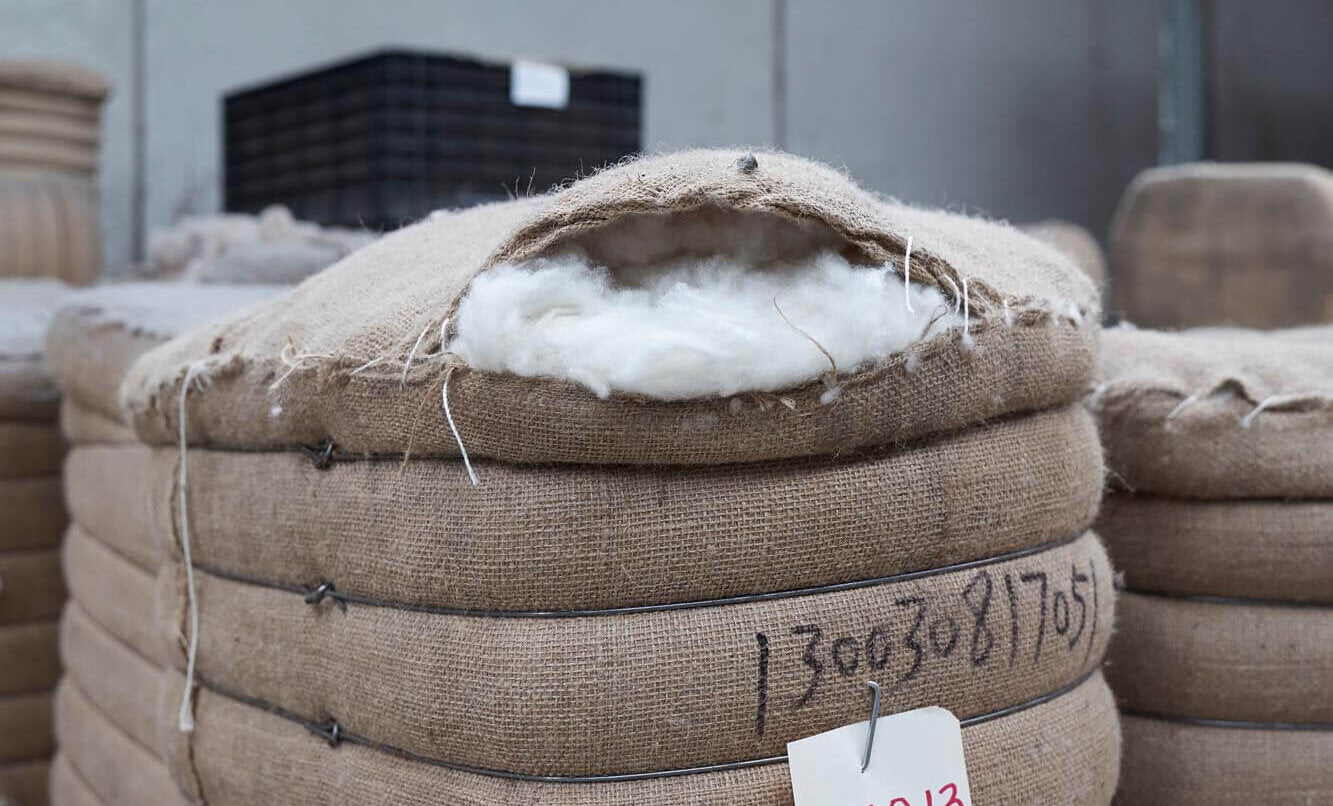 Swiss wool innovation
As a natural raw material, wool is weatherproof, breathable and temperature regulating. Nevertheless, the locally available all-rounder has hardly been used for textiles in Switzerland in recent decades. Many textile experts therefore looked at us in disbelief when we explained to them that we use Swiss wool as the main material in our LANA jackets.
Sheep wool used to be very important. It was used for high-quality clothing and products such as carpets or sails. The wool was about ten times as valuable as the meat of the sheep. It has even been referred to as the white gold and the fabric of kings. In the last few decades, however, came in Switzerland as in most regions of Europe
the decline of wool: synthetic fibers, cotton and Merino wool from abroad
established themselves in the textile sector. All materials that are much cheaper and better suited for rapid mass production.
Unique raw material to burn?
Shearing the sheep no longer paid off for Swiss farmers. They receive an average of just CHF 1 per kilo of wool per sheep. In the 1950s the price per kilo was still 10 francs. Back then
the federal government operated a domestic wool center
who collected all of Swiss sheep's wool and brought it to the market. The purchase of the sheep's wool was thus guaranteed at a fixed price. When the subsidies for the domestic processing of wool were finally cut in 2009, these institutions had to be closed. Thanks to federal funding and innovative projects, it was possible to prevent the total decline in wool, but supply and demand remained at a meager level.
So wool became a waste product
of sheep farming, most of which was simply thrown away or burned.
Functional and locally available raw material
The textile production chain from raw wool to finished yarn or even wool such as loden or tweed no longer exists in Switzerland for a long time. But why does it make sense to use this raw material in the textile industry? Sheep wool is a raw material that can naturally have a cooling and warming effect. In addition to its temperature-regulating properties, it wicks moisture away from the body, is comfortable to wear, dirt-repellent, odor-inhibiting and easy to care for. The natural material is also convincing because of the
local availability in Switzerland
what is in terms of sustainability. Switzerland has well over 300,000 sheep. Their wool is considered a renewable raw material.
The development that such an ingenious natural fiber remains unused and traditional textile craftsmanship is being forgotten, awakened the entrepreneurial spirit of our founders Dario and Dario.
Alternative solutions are required
Some textile companies have already discovered that Swiss sheep's wool is ideal as insulation in outdoor clothing. Some also use the natural material in combination with other, usually synthetic materials. Such mixing does not correspond to the circular economy, however, because the textiles cannot be recycled in this way. We wanted to go a step further and use
Swiss wool as the main material
for our LANA jacket and combine it with only bio-based materials. Since we didn't find any such high-quality material, the
In-house development was the only way
.
Wool quality as a challenge
When it comes to sheep farming in Switzerland, the wool quality is usually not the focus. In addition to the finest wool, coarse woolen hairs often grow because sheep breeds are crossed in order to achieve a better meat product or genetic diversity. Here, sheep are usually shorn twice a year - out of tradition or for
Sheep shows.
. This is a challenge for use in the textile industry: for high-quality fabrics,
consistent wool length and an even texture
are essential.
We obtain the raw material for the specially developed fabric from our partner
wollsein
. They collect Swiss wool directly from the sheep farmers and pay them one
fair price
. We only use high quality wool from
sheep of the same breed that are sheared once a year
.
Demanding workmanship
In addition, the processing of Swiss wool for textiles is very
demanding
. Because the wool of our domestic sheep breeds is - in contrast to the fine merino wool from New Zealand or Australia - rather rough and scratchy. That also makes sense: the animals that live in the mountains have to be robust. They have to have "a thick skin", so to speak.
We have found 3 small businesses in Northern Italy as partners for yarn production and the subsequent weaving and dyeing. They know how to handle such a complex raw material as Swiss wool. After more than 2 years of development, the
1.2 tons of Swiss wool resulted in 1.5 kilometers of wool fabric
. And all of this within a radius of less than 100 kilometers and according to the strictest sustainability criteria. A true Swiss wool innovation!
If someone is wondering whether our LANA wool jackets are also rather rough and scratchy: No! Thanks to the high-quality processing of Swiss sheep's wool, the outer fabric is comfortable to wear. And the entire inside of the wool jacket is lined with a silky soft wood-based lining.